Tips: If there is no sound or abnormal sound after connecting and pairing the subwoofer correctly, you can try to unplug the subwoofer and restart it.
CONNECT TO SUBWOOFER AND SURROUND SPEAKERS
1. Use the 6m RCA-RCA cables to connect the subwoofer and surround speakers, please pay attention to matching the same color interfaces on the surround speakers with the corresponding ones on the subwoofer and place the surround speakers accordingly.
2. Use a power cable to connect your subwoofer and power port.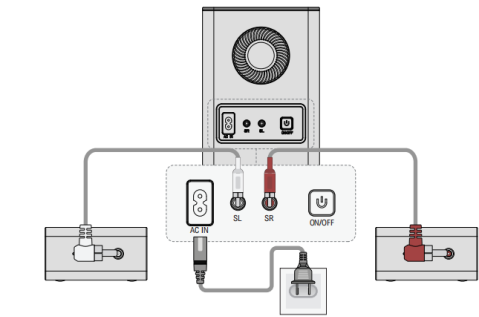 PAIRING SUBWOOFER
The subwoofer has been paired with the soundbar by ULTIMEA.
However, you may need to re-pair the soundbar and subwoofer if there is no sound coming from the subwoofer.
It is recommended that the remote control be paired close to the LED display of the main sound bar and that the subwoofer be placed next to the main soundbar.
Subwoofer Pairing Method:
1. Both the main soundbar and the subwoofer connect the power and turn on the soundbar.
2. Position the remote control approximately 1 foot away from the Soundbar, pointing it towards the LED indicator, as shown in image 1.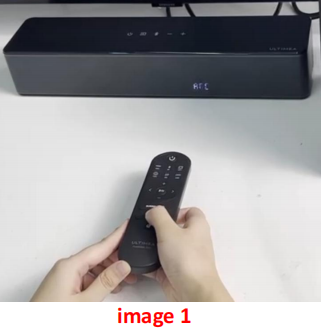 3. Long-press the button " "on the remote control for 5 seconds, until the main soundbar displays a flashing "SUB, " as shown in images 2 and 3.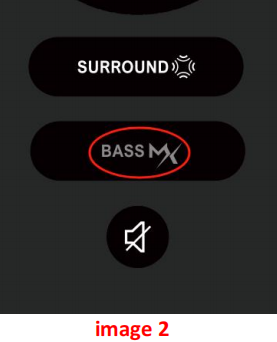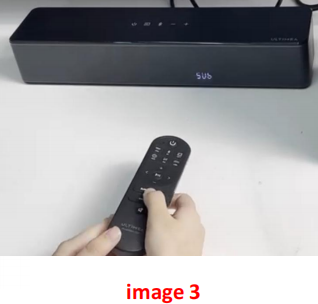 4. Long-press the "ON/OFF" button on the subwoofer for 5 seconds until the white indicator light starts flashing rapidly, as shown in image 4.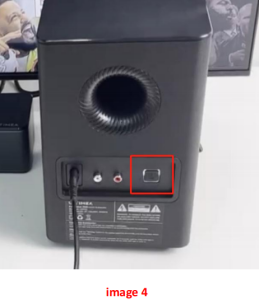 5. Within approximately 5 seconds, the subwoofer's indicator light will be not flashing and always be on, indicating a successful pairing.
Subwoofer abnormal working problem:
1. It is recommended to place the subwoofer on the ground for use.
2. Please do not use external objects to block the soundbar and subwoofer horn
3. To increase the subwoofer effect:
A: Turn up the volume
B: Press BASS: BS 1 or SR 1
C: Try it out with a heavy bass song and turn the sound to the maximum. then put your hand close to the subwoofer. Check for vibration.
Note: For a better listening experience, we suggest the soundbar and surround speakers should be placed at the sofa sides or near the ear level.