CONNECT TO SUBWOOFER AND SURROUND SPEAKERS
1.Use the 6m RCA-RCA cables to connect the subwoofer and surround speakers, please pay attention to match the same color interfaces on the surround speakers with the corresponding ones on the subwoofer and place the surround speakers accordingly.
2.Use power cable to connect your subwoofer and power port.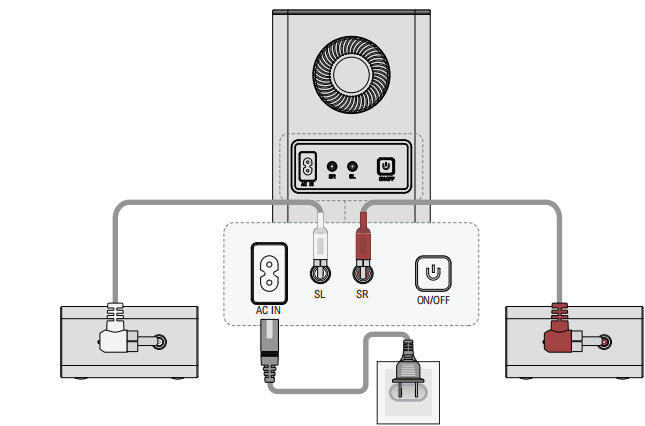 PAIRING SUBWOOFER
The subwoofer has been paired with the soundbar by ULTIMEA.
However you may need to re-pair the soundbar and subwoofer if there is no sound coming from
the subwoofer.
Step1:
Press and hold the "

" button on the remote
Step2:
control for 3 seconds, the display will show "SUb" flashing
Press and hold the ON/OFF button on subwoofer for 3 seconds, the white LED will be fast flashing. The white LED will be solid on when the subwoofer is paired successfully.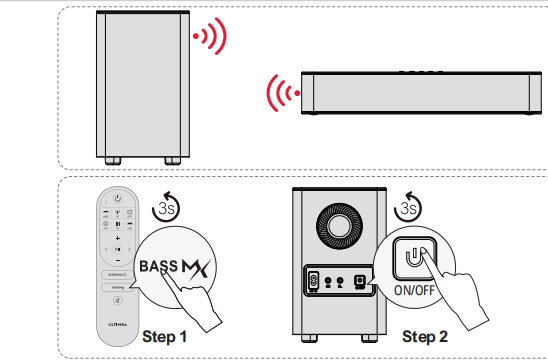 Subwoofer abnormal working problem:
1.It is recommended to place the subwoofer on the ground for use.
2.Please do not use external objects to block the soundbar and subwoofer horn
3.To increase the subwoofer effect:
A: Turn up the volume
B: Press BASS :BS 1 or SR 1 (Bass Level:-1; 0; 1)
C: Try it out with a heavy bass song and turn the sound to the maximum. then put your hand close to the subwoofer. Check for vibration.
If this issue persists, please contact Ultimea customer support at support@ultimea.com for further assistance. Please make sure to mention that you have tried the steps in the FAQ so that our agents do not ask you to repeat these steps.