Please try these steps to solve the issue:
1. Please increase the volume of the soundbar. Press "VOLUME UP" on the remote control or on the top of your sound bar.
2. Press "MUTE" on the remote to ensure the sound bar is not muted.
3. Press "INPUT" on the remote or on the top of your sound bar to select a different input source.
4. Please switch to another APP such as YouTube or play a local video, and check whether there is sound comes out.
5. Please try different connect ways on the soundbar. (Quick verdict: try a Bluetooth connection to the soundbar with your phone)
6. The soundbar doesn't support Dolby Audio, please make sure Dolby Audio is turned off in the TV settings
7. If there is no sound when using the Digital Optical or HDMI (ARC) input mode, please check if the below TV setting PCM is correct:
(A) Try to set the TV audio output format to PCM:
TV Settings>Home>Settings>Sound> Digital Audio Output>PCM.
(B) Connect directly to your Blu-ray/another source, some TVs do not pass through digital audio.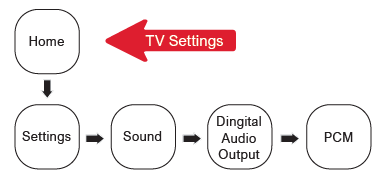 Note: On digital inputs, the LED display will flash "----" rapidly if an unsupported format is present, please set the source to output PCM.